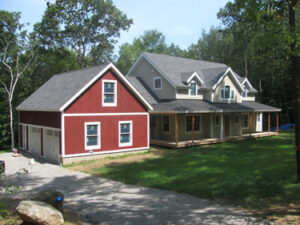 Timber Frame construction is so beautiful that tens of thousands of people build either their entire home or a portion of it this way every year. Hybrid homes that couple both timber framing and conventional stick framing together are very common nowadays.
There is nothing nicer than bringing Mother Nature indoors and framing with massive timbers.
Our experienced designers can design a structure that fits your family's needs. We can even work with your architect to design a space that is just right for you.
Read About Barn to Home Conversions
Although we love the designs below, we can make any alterations or design additional rooms, layouts, or dimensions to fit your needs. Visit Design Your Barn to submit your ideas!